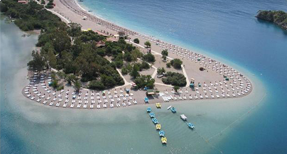 Welcome to TinyAkropol
A holiday changes your world view forever by striving to assemble with the best packages by us TINY AKROPOL TRAVEL based in Hisaronu Village.We make sure your holiday will be worth remembering with our excursions,airport transfers and rent a car services in the area of Fethiye,Hisaronu,Ovacik,Calis,Oludeniz,Üzümlü,Kas,Kalkan etc.
Our knowledge and areas of specialization are the direct result of successful years since 1994 in the travel industry and based on our personal travel experiences. This enables us to supply valuable and resourceful information to our customers. What makes us different from other agencies is our approach not only we book your complete vacation ,excursions or cruise and we offer objective advice and concierge level service every step of the way. Also we take the time to get to know you so your holiday dreams really do become reality.
Our recommendations are based on your preferences the character of the destination and the reviews about the excursions. Our consultants match up what you are looking for with the trips and accommodations that best fulfill them.Then we look at only the highest rated properties and trips using independent reviews and first hand knowledge not brochure propaganda. Our goal is to discover the right destination and the finest accommodations that offer you the best value in Fethiye area.
We have a personal passion for providing seamless quality reliable travel experiences.Discovering travel opportunities of the almost quality while insuring incredible value and providing the highest level of service and customer satisfaction.Superior knowledge, efficient planning and the ability to anticipate and resolve potential problems along the way are the reasons why our customers return to us. We work hard to make each travel experience stimulating, memorable and trouble free so that you can think about more important things-like having your dream holiday!!!
We know the country and all the ways for you to discover it. We are passionate about travel and assuring the happiness of our customers. We don't just fulfill your expectations we take them beyond what you thought possible. Our consultants have extensive knowledge of both popular and little-known destinations. Your personal consultant will work with you to offer informed recommendations and tailor the perfect trip to fit your individual style. We are unbiased professionals whose top priority is looking out for your best interests.Our unique personalized approach to vacation travel brings you a world of possibilities.Don't waste another minute trying to put together the details of your holiday.
We are based in Fethiye/ Hisaronü and serve clients all over countrywide . We communicate by e-mail and phone and ship documents by express mail and UPS.

A different approach for a very different experience in Turkey !
♣ ATTENTION : OUR ONLINE PAYMENT SYSTEM REQUIRES 3D SECURE CARDS ONLY.. !! IF NOT CAN PAY AT YOUR ARRIVAL FOR ANY OF YOUR BOOKINGS..